Who can receive a scholarship granted by Renovabis?
All women and men (priests, candidates for the priesthood, religious and laity) from the countries of Central, Southeastern and Eastern Europe, the Caucasus and Central Asia, who are preparing for a ministry in the Church in their home country or wish to obtain further qualifications by studying abroad. This requires the proposal of the applicant made by the bishop of the home diocese or, in the case of religious, by the Provincial Superior. For more information see the documents in the download-area below.
Albertus Magnus Scholarship Program
Since 2013, scholarship holders can be proposed for the Albertus Magnus Scholarship Programme of the German Bishops' Conference. The scholarship programme aims at the acquisition of a licentiate or a doctorate in theology or a neighbouring discipline at a university or theological university in Germany. In addition to providing scientific support, it also serves to get to know the social and ecclesiastical situation in Germany better and to promote exchange and dialogue between the local churches. It is aimed at students from Africa, Asia, Latin America and Central and Eastern Europe.
Interested students from Central and Eastern Europe should first apply regularly for a Renovabis Study Scholarship, but enclose a 2- to 3-page letter of motivation with their application and for doctorates additionally a brief exposé/ project outline (2-3 pages).
Download more Information below.
Download information
Theological Scholarship Program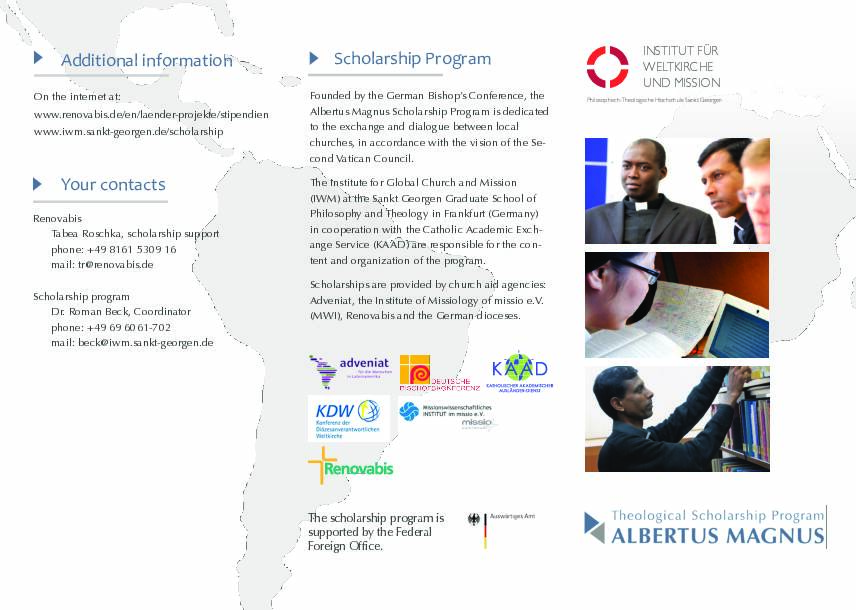 The Albertus Magnus Theological Scholarship Program is dedicated to the exchange and dialogue between local churches, in accordance with the vision of the Second Vatican Council. Renovabis belongs to the sponsors of this program.
Content created: 20.09.2016, last modified: 21.02.2022